Exhibitor, Sponsorship, and Advertising Opportunities
Be The Best, is the longest-running baseball and softball coaches' clinic in the country, celebrating its 50th Anniversary this January!
Now under new management, Be The Best is brought to you by Alphas Alliance!
To make our 50th Anniversary bigger, better, and more fun-filled than ever before, we will be moving to Wilmington, NC!
Thanks to the larger venue, we are combining our softball and baseball into ONE convention, bringing in some of the best coaches across the country, for an action-packed, three-day event!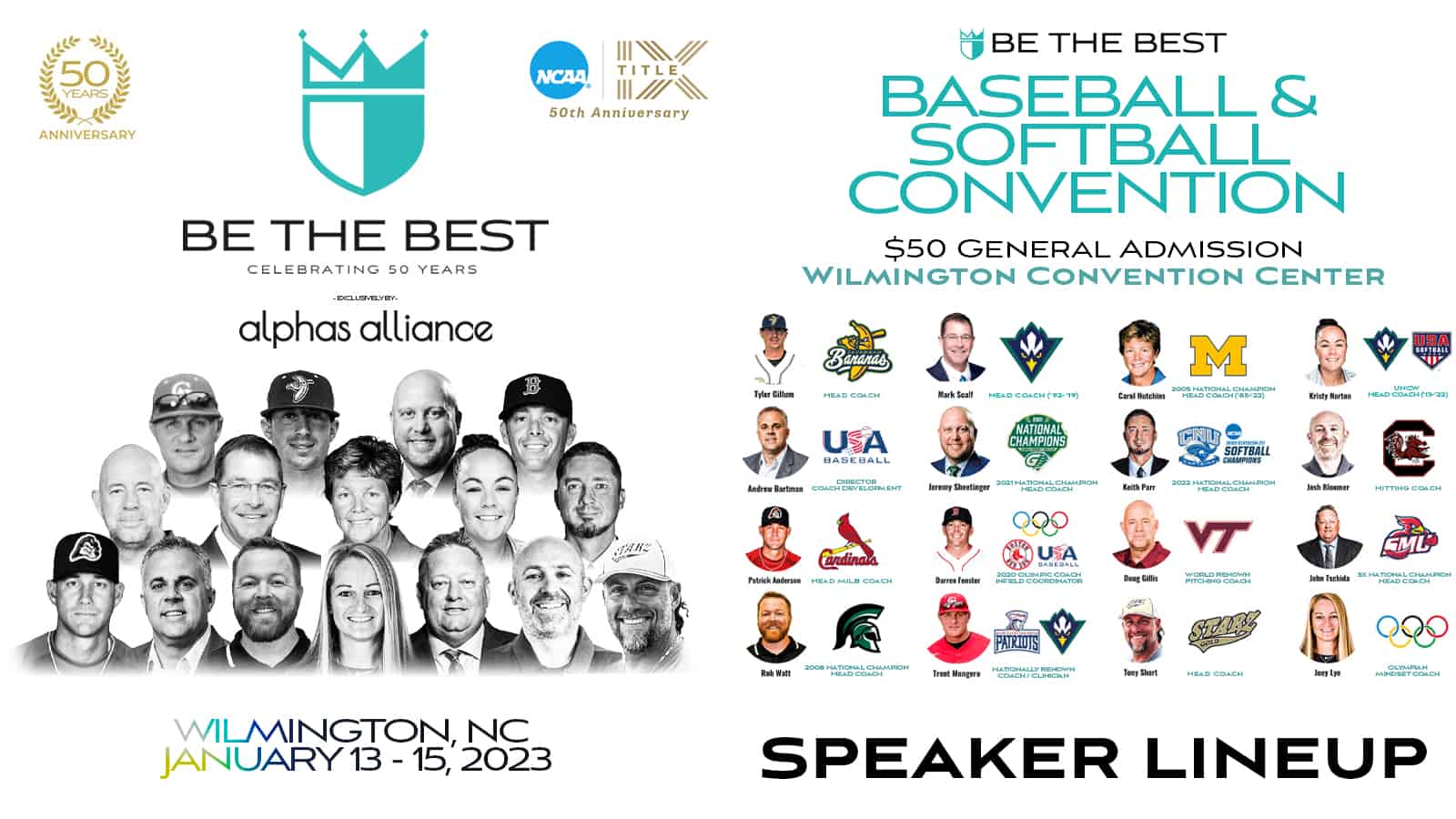 Want to Sponsor or Advertise with Be The Best?
BECOME AN EXHIBITOR! SPOTS ARE LIMITED! REGISTER NOW!!
Friday, January 13 – Sunday, January 15, 2023
Ticket Type
Price
Cart
Exhibit Booth

$

750.00
We offer exhibitor AND sponsorship opportunities that allow you to TARGET your audience and MAXIMIZE your sales potential.
Wilmington Convention Center's exhibition space offers strategic placement of breakout rooms and stages. And that means great FOOT TRAFFIC and flow — a built-in, ADDED-VALUE BENEFIT for our vendors.
Wilmington location is just 8.5 miles east of Wrightsville Beach, surrounded by many restaurants that have been featured on "Diners, Drive-ins, and Dives",  as well as countless breweries and nightlife venues
Prices to be an exhibitor or sponsor for this amazing event start at $750!!
Set up starts Thursday, January 12th, 12-5 pm 
Exhibits Open:
Friday
8 am – 8 pm
Saturday 
9 am – 6 pm
Sunday
8 am – 12 pm (Breakdown Anytime)
Price includes two staff members per booth.  All staff MUST register for admission. ALL price adjustments are automatically applied during checkout.
~ the 50th anniversary will be held at the beautiful ~
WILMINGTON CONVENTION CENTER
HOTELS
5mins Walking Distance!