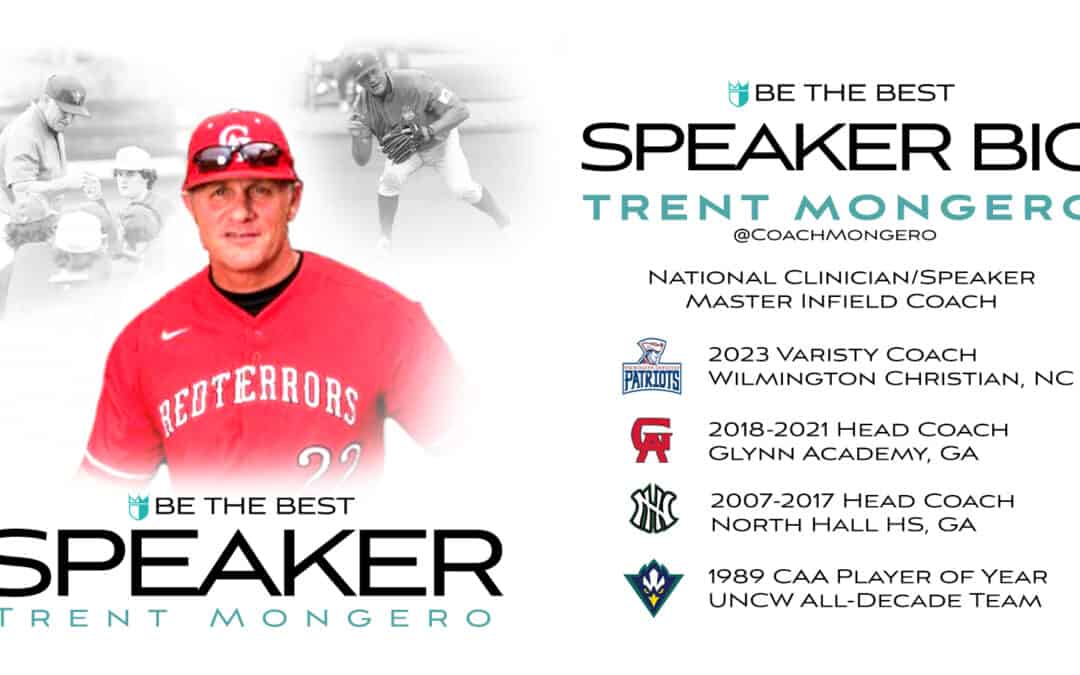 Wilmington, NC – Be The Best announces the addition of baseball legend Trent Mongero to the speaker line-up at their annual baseball and softball coaches convention in Wilmington, NC on January 13-15, 2023.
Self-proclaimed as a blue-collar baseball coach, Mongero spent 30 years as a successful high school coach in North Carolina and Georgia, developing thousands of student-athletes along the way. A passionate believer in helping players reach their full potential both on and off the field, Mongero now serves as a mentor, author, clinician, camp director, national speaker and Sirus/ XM radio host.
"I'm truly excited to share my experiences at Be The Best," Mongero says. "I'm thrilled that they've brought the convention to Wilmington for their 50th anniversary and that I can be a part of the celebration."
Trent is a former UNCW baseball alumni and 1989 CAA Conference Player of the Year and was selected to UNCW's All-Decade team. His son, Taber, is currently a senior shortstop for the program.
Known for its interactive and casual format, Be The Best levels the playing field, giving attendees an opportunity to connect with the speakers that include college coaches, professional coaches, former Olympiads and sports specialists. Topics covered range from skills and drills to conquering the mind game and building your best brand.
"Coach Mongero is the perfect fit for Be The Best," says says Diego, co-owner of Be The Best. "He is a great coach and mentor and believes in bringing out the best in every person, which is precisely what we're all about."
Mongero joins a dynamic line-up of speakers at the convention and will deliver a captivating talk about the five common myths of infield play and instruction.
For 50 years, Be The Best Baseball and Softball Convention has preserved the founding concept of providing an affordable, accessible convention created for coaches, by coaches. Now powered by Alphas Alliance, a woman and minority-owned and operated business, Be The Best will be held for the first time in Wilmington, NC from January 13-15, 2023.