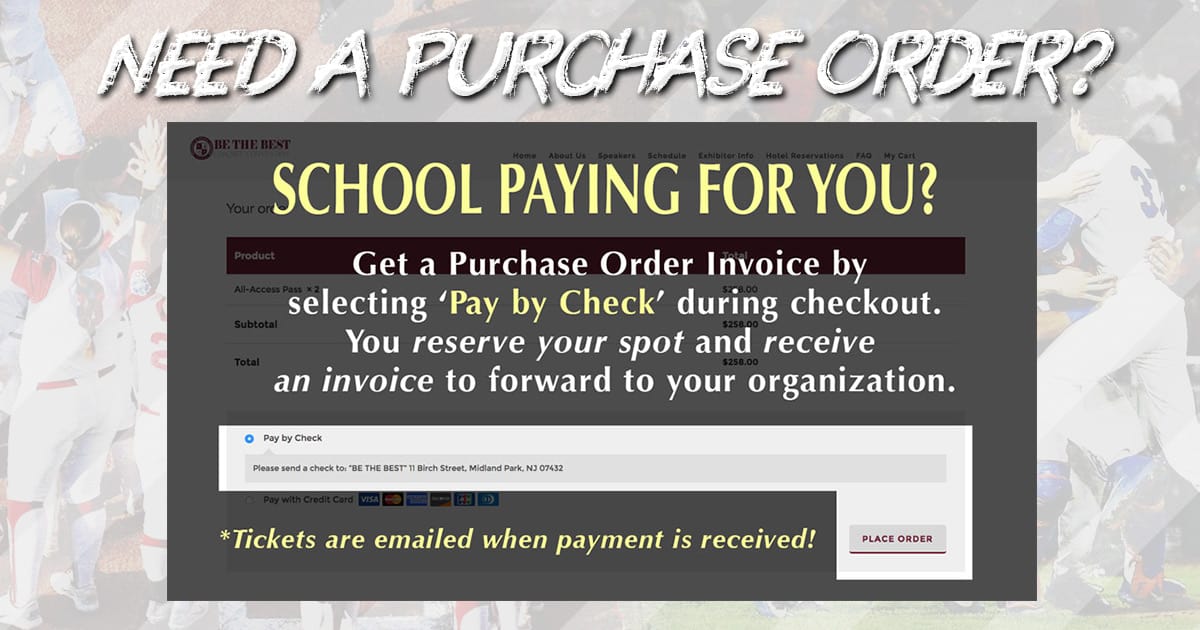 Is someone footing the bill for you?
One of the best things about Be the Best is that it's so well-known and highly-regarded that employers, schools and organizations will often pay for you to attend this action-packed coaches' convention.
And we, at Be the Best, have always vowed to keep the process as simple as possible for you.
If someone else is footing your bill, all you need to do is select PAY BY CHECK during check out. A Purchase Order Invoice will be generated and e-mailed to you immediately. You can then print it out and submit it to your organization for payment.
FROM NOW UNTIL JUNE 30, 2018
$99
JULY 1 – AUGUST 31, 2018
$119
SEPTEMBER 1 – OCTOBER 31, 2018
$129
NOVEMBER 1 – FIRST DAY OF CONVENTION
$139
PRICE AT DOOR
$159
Talk to your employer TODAY to secure your spot at everybody's favorite baseball and softball coaches' convention!
Be the Best Baseball Coaches' Convention
Thursday, January 10 – Saturday, January 12, 2019
Be the Best Softball Coaches' Convention
Thursday, January 17 – Saturday, January 19, 2019
The hard-hitting coaches' convention that adds FUN to the lineup.