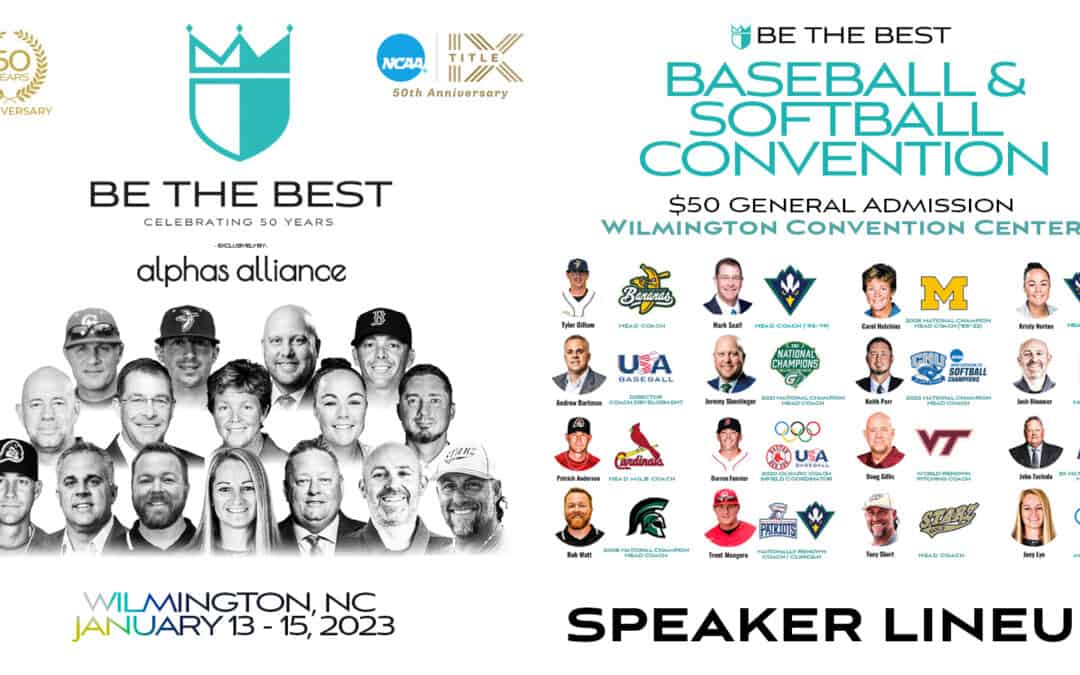 The country's longest-running baseball and softball convention marks 50 years with show in Wilmington, NC on January 13-15, 2023.
Wilmington, NC – In celebration of Be The Best's 50th anniversary, some of the country's most esteemed coaches and experts will come together to share insights and instruction at the Wilmington Convention Center on Friday, January 13 through Sunday, January 15, 2023. Alphas Alliance, a software company that caters to coaches, is thrilled to announce their acquisition of Be The Best as well as the unveiling of this year's exciting speaker line-up.
"The Wilmington and Beaches CVB and its travel partners are honored to be selected as the site of the convention's 50th anniversary," says Kim Hufham, President/CEO of the New Hanover County Tourism Development Authority. "Our riverfront convention center is within easy walking distance of hotels, inns, and vacation rentals, as well as restaurants specializing in locally-sourced seafood and produce. Wilmington's variety of museums, beaches, tours, cruises, parks, gardens, and sports facilities make it the ideal destination for attendees to bring along their families for a memorable convention and vacation."
The site was specifically chosen for its affordability and versatility as well as its deep roots in the baseball and softball worlds.
"Wilmington's vibrant collegiate and amateur level sports scene combined with our beautiful beaches and historic downtown have long been a draw for athletes of all skill levels to train, recover and refocus," says Natalie English, CEO of Wilmington's Chamber of Commerce. "We are so pleased that Be The Best has selected our city for this event."
On the baseball side, speakers at the event include USA Baseball, Andrew Bartman; Savannah Banana's Head Coach, Tyler Gillum; 2021 NAIA National Champions, Georgia Gwinnett College Head Coach, Jeremy Sheetinger; Seattle Mariners Hitting Coordinator, CJ Gillman; St. Louis Cardinals MiLB Head Coach, Patrick Anderson; Team USA Olympic Team / Boston Red Sox Coach, Darren Fenster; and University of Mount Olive Head Coach, Rob Watt.
On the softball side, speakers at the event include 2022 CAA Champions, UNCW, Retired Head Coach, Kristy Norton; 2022 D3 NCAA Champions, Christopher Newport University, Head Coach, Keith Parr; University of South Carolina Hitting Coach, Josh Bloomer; Virginia Tech Pitching Coach, Doug Gillis; 2x NCAA D3 Champions Head Coach, John Tschida from Saint Mary's University; and Starz Gold Head Coach, Tony Short.
Also speaking at the event about elite mindset and mental performance are renowned speakers, Olympian, Joey Lye; and Cheryl McCormick from Gravitational Performance.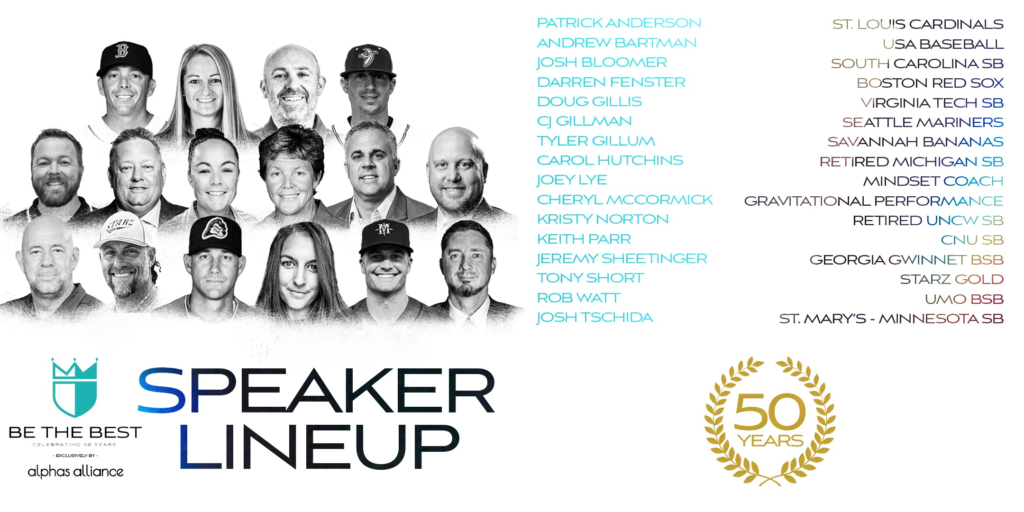 "Being around other people who want to learn and grow and get better just makes our game better," says Andrew Bartman, Director of Coaching Development for USA Baseball. "Be The Best is a very high-level event that offers both intimacy and access to the presenters who are there to share ideas with other like-minded individuals."
Now owned and operated by Alphas Alliance, Diego Ibarra and Lindsay Mayer bring a new vibrancy to Be The Best. As owners, coaches, and entrepreneurs, they explore out-of-the-box concepts and incorporate cutting-edge technology, yet are deeply committed to Be The Best's original vision, which was put in place when it was founded back in 1972. Ibarra and Mayer recognize that the success of the longest-running baseball and softball convention is contingent on it being a show for coaches, created and run by coaches.
"I am beyond excited to move this event to Wilmington, NC," says CEO, Lindsay Mayer. "It is a beautiful, affordable city right in the heart of the baseball and softball worlds. I look forward to connecting thousands of coaches and athletes as well as creating business opportunities that extend beyond the field."
Be The Best traditionally attracts about 1,500 attendees who come together each year to interact with former professional and Olympic athletes, college coaches and other baseball and softball professionals who share their experience and expertise. Speaker topics include everything from how to build a championship program and making sense of the mental game to pitching mechanics and defense skills.
"I see it as a journey," VP, Diego Ibarra says. "And no matter where we are on our individual paths – whether it's Little League, travel ball, college, or at the pro level – we can all learn from each other in our quest to Be The Best players, coaches, and selves we can possibly be. I am proud to be in a position to help empower so many individuals on their personal journeys."
Registration is now open and can be accessed at www.bethebest.com.
| Ticket Type | Price | Cart |
| --- | --- | --- |
| Adult Pass | $50.00 | |
| Coaching Staff of 4 | $199.00 | |
| Student Pass | $39.00 | |
| VIP Coaches Reception | $25.00 | |
| Business Power Breakfast - Individual | $40.00 | |
If you are interested in a sponsorship or being an exhibitor at Be The Best Convention, please contact Lindsay Mayer or Diego Ibarra at info@bethebest.com or visit the website at www.bethebest.com.
---
Alphas Alliance is an innovative software company built to make coaches' lives easier. For more information, please visit www.alphasalliance.com.