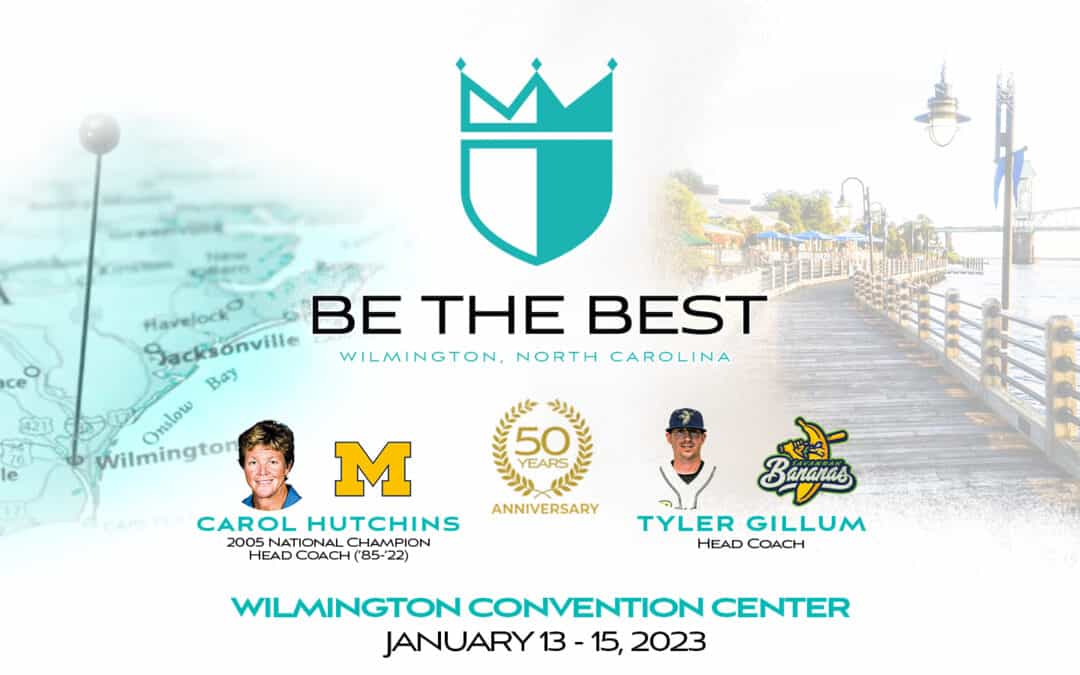 Wilmington, NC – We are excited to announce the upcoming Be The Best Baseball and Softball Convention, taking place on January 13-15, 2023 at the Wilmington Convention Center. This is a unique opportunity for players, coaches, and industry experts from across the country to come together and learn from top coaches in the industry.
The Be The Best Convention is hosting its 50th-anniversary staple event, and we are honored to have several high-profile coaches presenting on a variety of professional development topics, including leadership, culture building, and branding. Speakers include UNCW's legendary baseball coach Mark Scalf ('92-'19), Carol Hutchins (Michigan Hall of Fame Head Coach 85-'22), and Tyler Gillum (Head Coach of the Savannah Bananas).
"I am a long-time fan of Be The Best and am excited to see old friends in a new home," says Carol Hutchins. "It's always a special weekend with a perfect balance of fun and learning. Wilmington is a great place for this convention!"
The Savannah Bananas baseball team, led by Head Coach Tyler Gillum, is also making waves in the industry with their innovative branding strategy. They have been praised for their unique approach to building a successful team and fan base, and attendees of Be The Best will have the opportunity to learn from their success.
Local businesses focused on growth will want to take advantage of this opportunity to learn from these notable speakers. And, as an added bonus, local businesses are also invited to take part in a business-centered Power Breakfast on Saturday, January 14th, 2023.
In addition to being an excellent opportunity for attendees to learn and grow, Be The Best will also be a boost for the Wilmington economy. Sports events like this have the ability to bring in significant tourism and support local businesses.
Sponsorship opportunities, and Power Breakfast tickets are available for local businesses and organizations looking to support Be The Best and be a part of this exciting event.
Students with a valid ID can get a reduced rate of just $10 admission using code: 'student'. For those looking to volunteer or work the event, email: info@bethebest.com. For more information, please visit our website at www.bethebest.com or call (910) 839-7131.