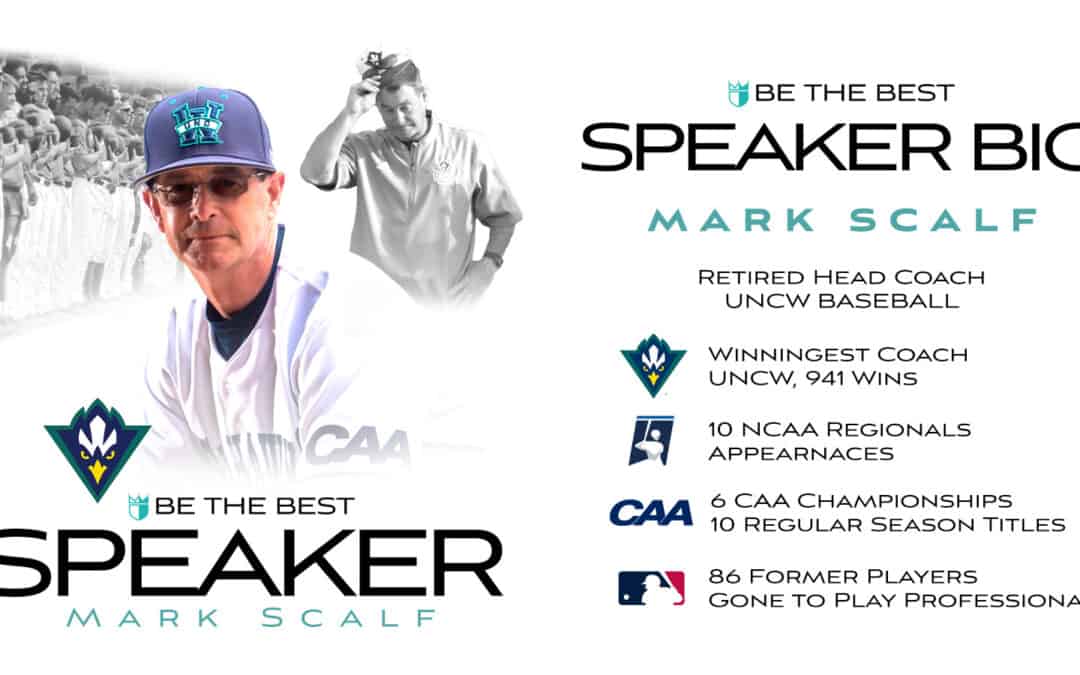 Wilmington, NC – Be The Best is excited to announce the addition of Mark Scalf, the all-time winningest coach at UNCW, to the speaker line-up at their annual baseball and softball coaches convention in Wilmington, NC from January 13-15, 2023.
Following the 2019 season in which UNCW baseball brought home a Colonial Athletic Association (CAA) championship and advanced to the NCAA Regionals, Mark Scalf gave up his spot at the helm.
Scalf's storied career includes the coaching of 83 UNCW players who went on to play professionally, including first-round selection Brad Holt in 2008 who was drafted by the New York Mets. Under his tutelage, 134 players have earned All-CAA honors with five named as CAA Player-of-the-Year. He owns 941 career wins, nine CAA regular season titles, six CAA tournament championships and 10 trips to the NCAA Regionals.
"The number of wins is not what's most important to a baseball coach," Scalf says. "The real joy is in the lessons learned, the relationships formed and the gratification you get from seeing the men your players become. There's nothing like it in the world."
He will be forever immortalized with his induction into the Greater Wilmington Sports Hall of Fame on May 7, 2023. The GWSHOF honors people who, by their excellence in the world of sport, have brought recognition and esteem to themselves and the Greater Wilmington area.
"Connections, camaraderie, and collaboration – this is exactly what community is all about," says Wilmington Mayor, Bill Saffo. "We welcome Be The Best with open arms and look forward to coordinating efforts as we foster our common visions for Wilmington."
Known for its interactive and casual format, Be The Best levels the playing field, giving attendees an opportunity to connect with the speakers that include college coaches, professional coaches, former Olympiads and sports specialists. Topics covered range from skills and drills to conquering the mind game and building your best brand. Coach Scalf will be a part of the Champions Q&A along with Carol Hutchins who is college softball's winningest coach ever.
"We are beyond thrilled to have Coach Scalf join us at our annual convention. He's an absolute icon, not only in the baseball world but in the community at large," says Lindsay, co-owner of Be The Best. "He is accessible, knowledgeable and a truly engaging leader."
For 50 years, Be The Best Baseball and Softball Convention has preserved the founding concept of providing an affordable, accessible convention created for coaches, by coaches.
Now powered by Alphas Alliance, a woman and minority owned and operated business, Be The Best will be held for the first time in Wilmington, NC from January 13-15, 2023.